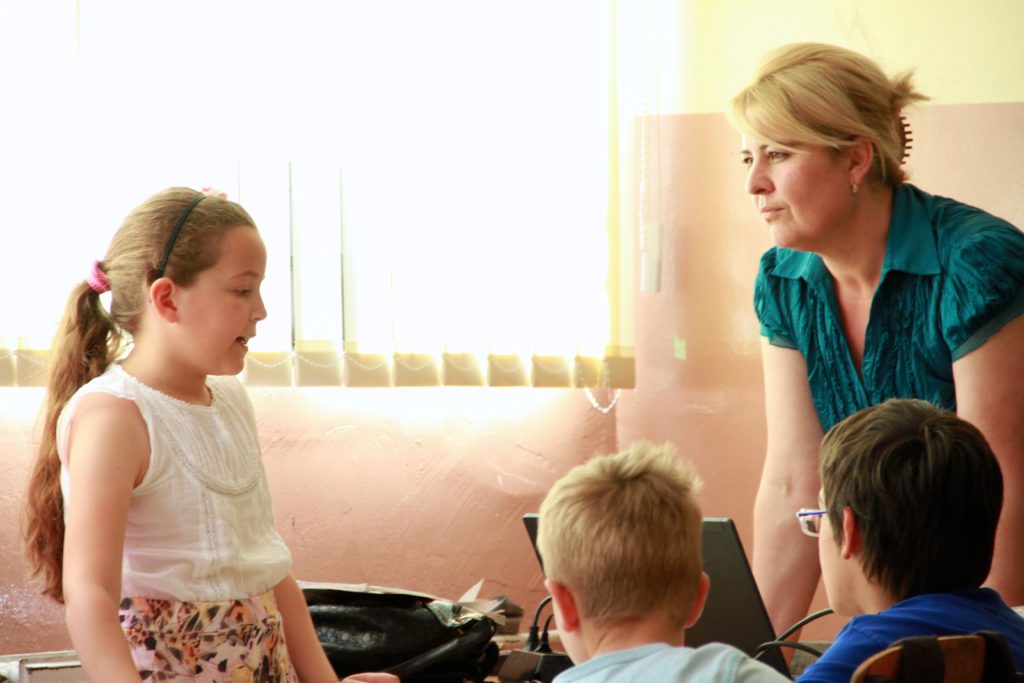 Teaching isn't a profession where you can leave your job "at the office." When teachers aren't in their classrooms, they're making lesson plans, grading papers, creating crafty, fun, and educational decorations and "centers" for their classrooms — and unfortunately buying their own supplies.

Ninety percent of teachers spend—on average—$600 of their own money on supplies for their students each year, so that every child begins the school year with a level playing field. And this is where the Henry County Adopt-A-Teacher Initiative comes in.

The HC Adopt-A-Teacher campaign was created by the Raise Me Up Foundation, a non-profit organization that was formed in 2016 to help the community create a safe and healthy environment for children to grow.

According to the foundation's executive director, Priti Griffin, the inspiration for the Adopt-A-Teacher Campaign comes from the foundation's desire to positively impact and support the teachers and educators within our community.
"Our teachers are on the front lines every day, working tirelessly to meet the needs of every child they teach. Many of these children come from economically diverse backgrounds, and unfortunately may not always have the resources for their participation in the classroom," she said. "It's unfair to put the financial cost of continuously supporting these children on the shoulders of our teachers, [and] that's where the Adopt-A-Teacher campaign steps in and offers its support."

According to Griffin, the Adopt-A-Teacher campaign was designed to allow the community to select or "adopt" a teacher of their choice, access a list of needs supplied by that teacher, and deliver the supplies to the appropriate school by August 31, 2017. The community will be able to access a detailed list of teachers (adoptees) with their wish-list of supplies from the Raise Me Up Foundation's website, www.raisemeupfoundation.org, as of July 24, 2017.
Are you a teacher who wants to participate? Registration for specific classroom needs will begin on the website on July 24. You will be able to request specific supplies you need for your classroom. Individual or corporate sponsorship and general donations are appreciated and welcomed July 15 through August 31, and can be dropped off at several supporting community sites, including Moye's Pharmacy (on the square), The American Cookie Company (Tanger Outlet), Sky Zone McDonough Trampoline Park, and the Connecting Henry office in McDonough.
In 2016, local businesses like Strawn Insurance, NEWSole Running, H3 Automotive, The Women's Center PC, and Southern Grace Hospice and Palliative Care contributed valuable sponsor dollars, enabling the campaign's first year a great success. The campaign successfully facilitated the adoption of 192 teachers.
"Our goal is to double the number of adoptions and sponsors from last year," said Griffin.
"We're receiving phone calls and emails daily from teachers wanting to be "adopted." Teachers can be added to our list by submitting a request through our website or sending us an email at contactus@raisemeupfoundation.org.
The updated needs list is below.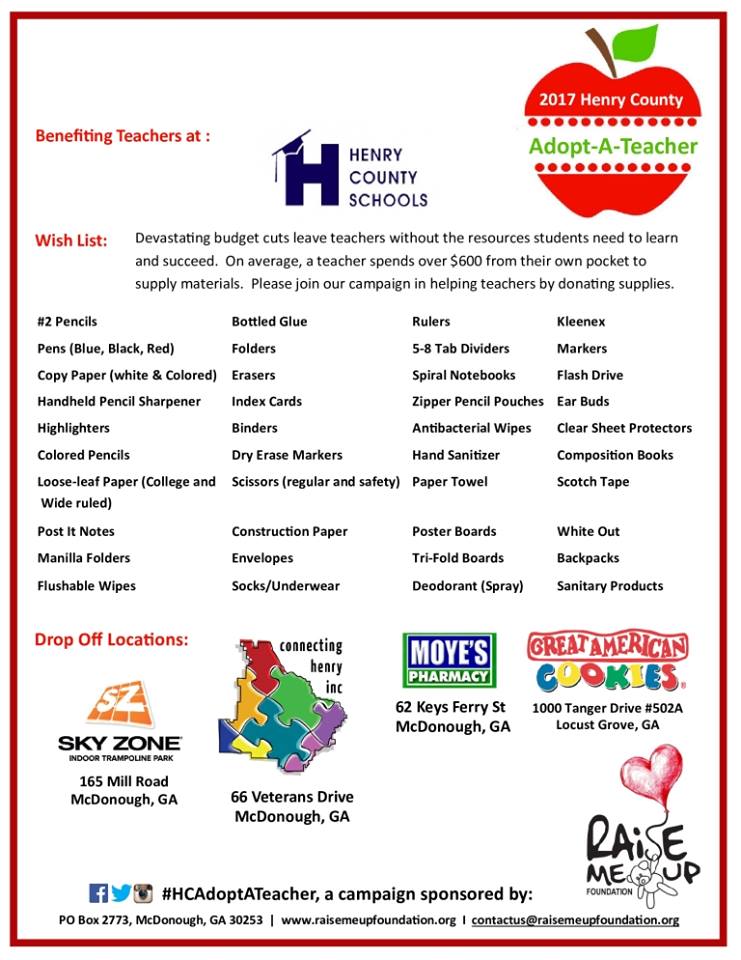 In addition to the Adopt-A-Teacher campaign, the Raise Me Up Foundation also facilitates  Darkness to Light/Stewards of Children trainings in an effort to recognize the signs and help prevent sexual child abuse. "We need to help train the community to recognize and react responsibly to child sexual abuse," Griffin said.
And the foundation is currently facilitating these trainings to all Henry County School staff.  "Although Darkness to Light trainings are the main focus of the Raise Me Up Foundation, we recognize other needs within the community and try to provide resources and programs such as HC Adopt-A-Teacher, the Henry County Healthy Children's Conference, an anti-bullying campaign, and more," Griffin said.
For further information on the Raise me Up Foundation and its programs, please contact their office at contactus@raisemeupfoundation.org.