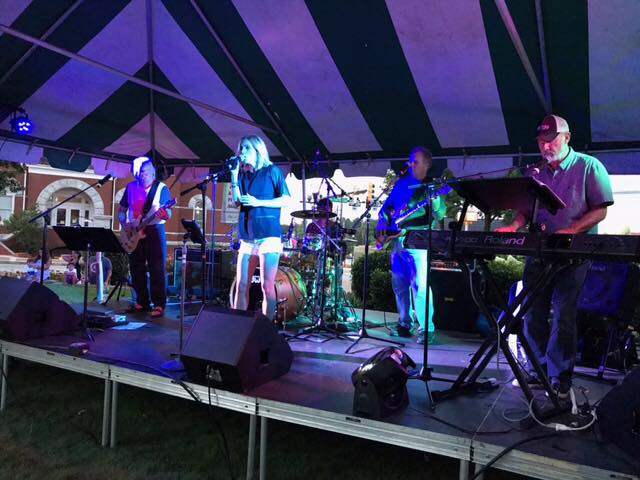 The Full House Band seems to always bring a "full house" to each and every one of their performances around the south side, and have been seen rockin' around Covington, Fayetteville, Peachtree City and McDonough bars and venues — and most recently, the Summer Concert Series on the square.
This cover band doesn't just stick to a particular genre of music, and loves to play a variety. According to LeAnne Wesley, the lead singer of the group, "we play anything from southern rock, country, r&b, and pop! We love playing different variety of music so it appeals to every age group in our audience."
And that definitely held true on Saturday night, where they played a variety of songs from many different generations, including everything from The Outfield to Bruno Mars.
Some favorites the band plays  at performances include "Can't Stop the Feeling," "Ex's & Oh's," "Girl Crush," "Two Tickets to Paradise," "Gold on the Ceiling," "Brick House," "Uptown Funk," "Locked Out of Heaven," "Footloose," and more.
So why the name "The Full House Band"?
"We have two females and three males in the band—hence the name 'full house,'" Wesley says. Performing is also a family affair, because Wesley's dad is they keyboard player in the band, as well. "I enjoy getting to spend time with him, doing what we love to do… playing music and entertaining people!" Wesley says.
If you enjoyed what you saw at the Summer Concert Series, The Full House Band loves to do private events and parties. "They're our favorite!" Wesley says.
The Full House Band is LeAnne Wesley, Steve "Doc" Mayo, Steve Rhodes, Arlo Jinks and Vicky Saylor. To book The Full House Band for your next event, you can reach out to the band through Facebook or email LeAnne at fleannewesley@yahoo.com.